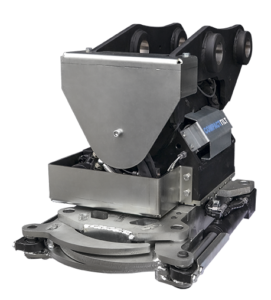 Weight Class: 6 - 10 Tons
The Compacttilt™ CTR10 is a tiltrotator with infinite rotation, designed for excavators in the weight class 6 to 10 tons. Uniquely, the Compacttilt™ CTR10 has a width of only 39 cm without claw and 49 cm with claw, designed to work in tight spaces and in versatile digging work.
A full 2×50 degrees of tilt – for maximum flexibility in the digging arm.

No pistons – nothing gets in the way on the sides of the digging arm.

Unique low weight of 280 kg incl. attachment and valve block (without gripper).

All wearing parts are replaceable.

Measures only 39 cm in width (without gripper) or 49 cm (with gripper).
The Compacttilt™ CTR10 is suitable for all excavation work and excels when working with grading, slopes, construction, tight and challenging site conditions. The Compacttilt™ CTR10 also excels in being able to minimize the need for digging boxes during construction tasks. Compacttilt™ CTR10 is available with different types of control systems – also proportional, and also available with rotation sensor. The mount is produced for the specific machine and is available with S-Shift.

Specifications for Compacttilt Rotator machines
Data/Compacttilt Str.

CTR2

CTR3

CTR10

390 mm w/o. gripper
490 mm w. gripper

Weight incl. machine mount and valve block

280 kg w/o. gripper
320 kg w. gripper

2 pcs. when w/o gripper
1 pc. when w. gripper
(1/2")

Degree of rotation rotator

HS8, HS4-HF (High Flow),
HS4, HS2