The man who bought the first Compacttilt talks about his experience.
Works for: JBO Entreprenør
Self employed since: 2017
Where in the country: Jens is specialist in digging drains around, for example, townhouses in densely built-up areas such as Odense, where you have to be careful and look out for, among other things, the neighbour's driveway etc.
Tasks: At JBO, they carry out tasks such as: Drainage, Concrete/decomposition, sewerage and construction.
Name: Hitachi
Model: Zaxis 19U
Extra Options: Compacttilt™ CTR2
• Central lubrication
• Extra light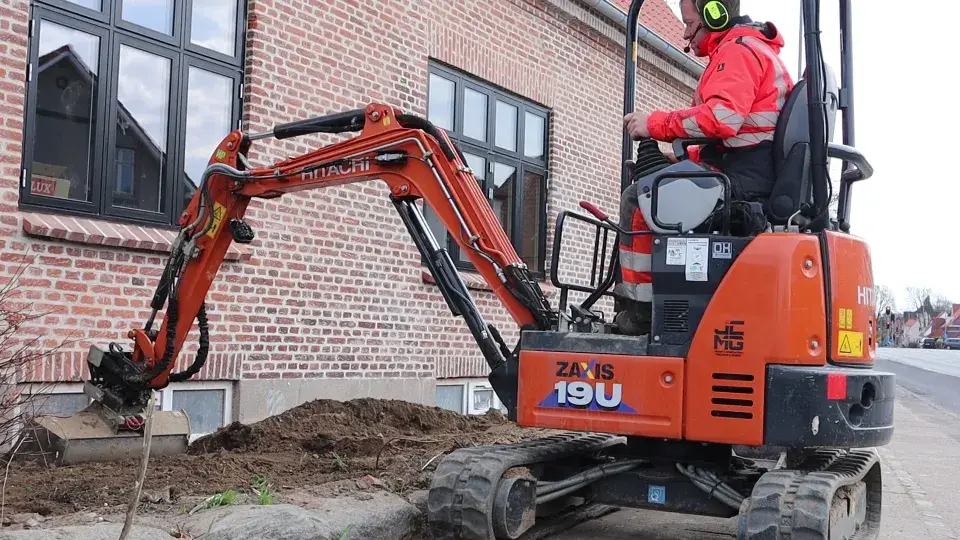 Visit JBO Entrepreneur to hear his experience
In May 2023, Compacttilt visited JBO Entreprenør to hear the story about the first demand for Compacttilt.

Jens Bang Olsen is an independent contractor who provides types of contractor work such as: drainage, concrete/decomposition, sewerage and construction. Back in 2013, he was tired of having to change hoses manually every time he had to change a bucket. At the same time, there was not a tilt on the market without cylinders. This made tasks such as digging narrow cable trenches impossible for Jens.

Jens asked Daniel Duus (owner and inventor of Compacttilt) if he could invent a cylinder-free tilt. It became a CT6, which became the first tilt. Since then, Compacttilt has developed a whole series of tilts and tiltrotators.
Watch the film with Jens Bang Olsen and hear his experience of Compacttilt.
Compacttilt™ CTR2 is used for the expansion of the new MTB track in Silkeborg
Former WC Champion in BMX, Chris Tetsche Christensen, is today a trained contractor.
He makes a living making MTB tracks, and is in the process of expanding Silkeborg Bikepark.
Upgrade from Takeuchi TB225 to TB230 with a Compacttilt CTR3
Mads Bøgelund Petersen is the owner of the contractor company Bøgelunds Erhvervsservice.
In Bøgelunds Erhvervsservice, excavation and burial for cables, plugs and mains is carried out, as well as digging for water breaks, etc.
Eurocomach 22SR with Compacttilt™ CTR2
Ronni Emborg is the owner of Emborgs Anlæg ApS – and a EurocoMach 22SR
In addition to the desire for a Compacttilt™ CTR2, Ronni also wanted a lot of extra equipment. Read what he got for his machine.